Evacuation Signs Overview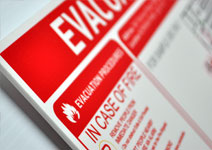 The Building Fire Safety Regulation 2008 requires every building to have evacuation sign(s). An Evacuation Sign comprises the evacuation procedures for the building or workplace, and the evacuation diagram for the building. The evacuation procedure outlines the process to follow in the event of a fire or other emergency, whereas the evacuation diagram must show the fire safety reference points including:
The place that corresponds to the place in the building where the sign is displayed.
The route to the nearest exit.
Each exit of the building.
Any intercommunication points.
The location of manually operated alarms.
The location of any fire fighting equipment.
The designated assembly area.
The route from each exit to the Assembly area.
All markup and drafting work is carried out by Fire Safety Advisers. Various finishes are available to our Evacuation Signs including laminating, expanded foam, acrylic and brushed stainless.
Evacuation Signs – Target Audience
All Queensland workplaces as required under the Building Fire Safety Regulation 2008.